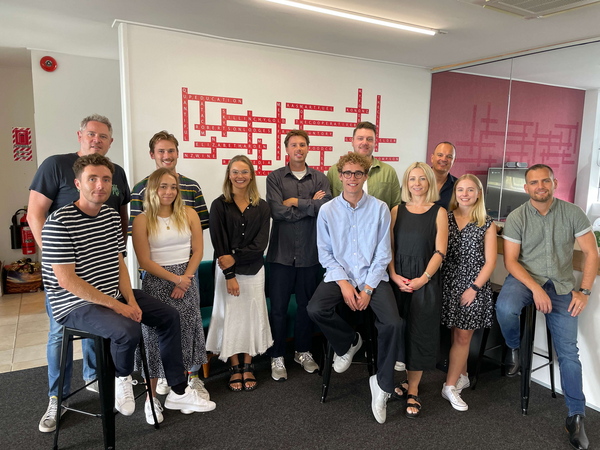 At the time, Alex was GM of Denstu's digital product and Richard CEO of KPEX, so they were in a unique position to observe the strengths and weaknesses of both sides.
On one side of the coin, the New Zealand media industry was (and still is) dominated by the big five, with a global pitch process that promises the earth but is often unable to deliver, and that are opaque in their trading principles at best.
And on the other side, Google and Facebook were taking over 70% of the NZ advertising spend, with local publishers left scrabbling over the change.
A year later D3 was founded, with My Food Bag and The Co-operative Bank as foundation clients.
Our focus is on being the best independent agency designed for corporate businesses based here in NZ, offering the products and services that our clients need to achieve their goals.
our-values
Our Values
Excellence
Embracing Excellence leads us to challenge ourselves to execute flawlessly and to consistently deliver the highest quality of service to our clients. To enable excellence, we seek the best talent and partners and we promote personal and professional development.
Authenticity
Demonstrating authenticity means we do what is right, not what is easiest. We are true to ourselves and to others. We are transparent, honest and consistent in all we do. We take pride in our work and act with professionalism. At all times and in every situation
Fun
Fulfilling our mission and our promise to our clients requires an intense focus, so we believe it is important to have a balance, not take ourselves too seriously and try to have some fun while doing it. We also aim for our clients to really enjoy working with us.
Commitment
Commitment comes from being passionate about solving complex business problems and helping shape the next generation of New Zealand businesses. We are intensely focused on serving our clients and helping them achieve their business objectives. We do what we say we are going to do.
Innovation
We embrace ideas that challenge conventional views and drive innovation. We believe that in order to stay relevant we must constantly improve and push ourselves and our clients
client-relationship-charter
Client Relationship Charter
The secret sauce to a successful media/client relationship really comes down to a symbiotic way of working that integrates the business objectives and internal workings of the client with the processes that sit at the heart of the agency.
With this in mind, we have developed the "D3 Way", which is a set of processes and promises that put the client at the very heart of what we do.
And at the centre of this is the D3 Client Charter:
Two way communication is vital.
Transparency is key to a trusted relationship
We'll endeavour to know your business as well as you do
Rinse and Repeat or Cookie Cutter approaches are not acceptable
Plan for brilliance
Innovate whenever and wherever
Help us be better
Confidentiality and Security
Your partners are our partners
Brilliant implementation 99.9% of the time
We'll challenge you. And please challenge us.
why-d3
Why D3?
As a corporate business, choosing to move from a big, safe, networked agency is always going to be a big decision, and we get that. And for that reason, we offer you ten reasons why you'll never regret moving to D3: an independent, ambitious agency where our clients are number one. End of story.
No complacency
Big agencies get complacent. To a big agency, a corporate client is, well, just another client. At D3, we are beyond passionate about doing a good job for our clients and this is a breeding ground for focus, creativity and diligence.
The Ringelmann Effect
This phenomenon is simply 'the tendency for individual members of a group to become increasingly less productive as the size of their group increases'. As a smaller, lean agency, we're not so big you need positions as specialist as Team Envelope Licker. We're a crack team of specialists with a broad skillset who are collaborative, creative and productive.
No red tape
Bureaucracy is the Kryptonite of innovation. Without the corporate rulebook we've got a climate for outside the box thinking and, frankly, 'just-getting-on-with-it-ness'.
Less sales-y
Our agency needs to make money – obviously, but we don't have "out-of-scope" targets, or hundreds of other agencies in the group to sell you into. And, therefore we're not consumed by numbers. It doesn't dictate every strategy and determine every action. There is a genuine excitement for, and love of, the work we do. This will be obvious.
Transparency
D3 does not have the same rabbit warren-like structure of a large agency. There aren't hundreds of departments. The staff at a D3 are communicative and available. If someone other than the recipient of a request holds vital information material to the request – well, they can just shout their name across the office.
Flexibility
D3 is lean, flexible and adaptable. If you want something done, you'll get it done. You don't have to put the project through operational protocols in order to correctly assign resources and project manage it to death. On the contrary, we pride ourselves on just cracking on with it. If the direction your business takes suddenly changes you can steer with immediacy and not come crashing off the road.

Relevance
Let's face it, if you're good at what you do, you're probably ahead of the curve. You can afford to experiment and take risks which makes you cutting edge. Forward thinking companies want cutting edge.
No BS
D3 staff haven't undergone the corporate brainwashing that makes all staff use the same terminology and buzzwords. Clients want straight talking. When they ask for an update, they want to the point answers: progress, timescales, barriers. And that's what we provide.
Affordability
Some big agencies, used to working with massive businesses, will see them as a bit of a blank cheque. Corporate clients are getting wise to this and when they come across a smaller agency, like D3, who can maintain or improve quality at a lower price point… well, you can imagine the outcome.
Sunk Cost Fallacy
The notion that a product or an idea, having received historic significant investment, is continually used as a solution, regardless of its effectiveness. For example, a larger agency, having just invested significantly into its programmatic team, may try and shoehorn all their clients' needs into that particular solution to justify it. D3, on the other hand, can remain extremely open-minded and take a top-down approach.