Restart, Rebuild & Reinvent In Lockdown: Top 5 Digital Projects
COVID-19 has pulled digital transformation forward by at least two years … are you ready? Now is the time to be proactive, to grasp the opportunity and prepare to take advantage of new opportunities once the world restarts, rebuilds and reinvents.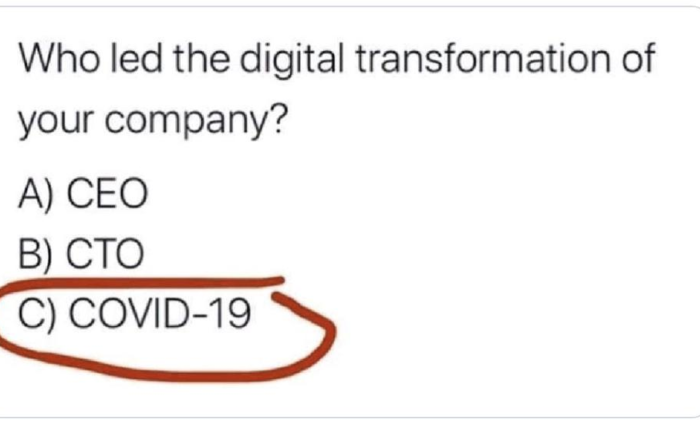 To help we've listed our top 5 digital lockdown projects for you to get stuck into today:
1. Kick start your data strategy & roadmap:
"Without data, you are blind and deaf and in the middle of a freeway." – Geoffrey Moore.
There's been so much discussion around data but still far too little action. Businesses that succeed in the new normal will have developed clarity around both their customer and target audience data. With advertising budgets tightening, establishing a clear connection between the known (customers) and the unknown (target audience) worlds will be more important than ever. Develop a clear plan designed to improve all the ways you acquire, store, manage, share and use data to see tangible benefit in the following areas:
Understand consumers and generate deeper insights into your target audience.
Improved media buying efficiency through more accurate targeting.
Open more targeted communications channels (owned) building a one to one communication throughout the customer life cycle.
Deliver greater content opportunities with more relevance & impact to the consumer.
Increase customer engagement, loyalty and product purchase frequency.
Improve the ability to cross sell with the right product at the right time across product portfolios.
Need some help? The D3 'Data Strategy Roadmap' develops a clear plan to capture, store, organise and utilise data across your business.
2. Search has changed; be the first to meet your future customers:
"Google only loves you when everyone else loves you first." – Wendy Piersall
Paid search might well be one of the greatest bottom funnel advertising tactics in the history of marketing. And for many of us, we have gotten addicted to the quick fix of paid search, often at the expense of organic search, and even brand activity. There's so much more opportunity in search marketing than capturing existing demand, and now is the perfect time to review the true value of search to your business balanced across paid and organic. And not just traditional text results, but across maps, shopping, video, and the knowledge graph. Search, social, ecommerce; they're all blurring together within a mobile and voice driven world. In particular, the rapid increase in voice search usage is one of the biggest changes yet and requires a completely different optimization strategy.
A high-profile presence within search channels is essential to any businesses and likely a key factor in future success. This means ensuring your brand has a plan for search to review your current strategy and plan for future developments across voice, mobile, maps, and augmented reality.
So, now is the time to step back and ask:
What is the true value of search to my business? Is the money we're investing truly returning what we need it to? Now is the time to focus on the high value areas, and slowly expand back out into the more generic areas.
Relook at your SEO strategy, and if you don't have one, then now's the time to act. Businesses with strong SEO will naturally suffer less if paid search is switched off. Look at it through a technical lens then through content.
Search used to be the cheapest and most efficient performance channel but for some industry sectors (insurance for example) search CPCs have gotten so expensive that well targeted Facebook ads can have a lower CPA. Worth investigating therefore is search is even the answer to the question you have!

Need some help? Our search and analytics team are ready to undertake the 'D3 Search Audit & Optimisation Roadmap' for your business to ensure that the fundamentals of search are in place, people find you when they are looking for relevant products / services, you have a content & reviews strategy for search and a clear roadmap for the future.
3. Maximise the Social Opportunity:
"Think like a publisher, not a marketer." – David Meerman Scott
Take a breath! We've all run so fast at the social media explosion over the past few years, give yourself the chance to stop, reassess your social presence (holistically) and reset the strategy. Step back and answer some simple but fundamental questions around social; look at who you are targeting (audience), what you are saying (content), how you are saying it (form) & where it appears (platform):
What's the role of each of your social channels? Facebook remains a mass reach channel and drives efficient direct response, but has brand engagement shifted to Instagram or elsewhere? Define the role of each social platform for your business and look at emerging opportunities in TikTok, Snap Chat, native content, messenger and others.
What is your content strategy? Be clear what are you saying in social, what role it's playing, what form should it take (create, co-curate, curate) and how are you going to produce it.
Target audiences' segments? Define clear data driven target audience segments for each message within the customer journey. Be clear on what customer data & insights you have in the business that can be leveraged in social media for targeting.
Do influencers work for my brand? Actually, what is an influencer, how do we identify, contract and brief them to ensure success?
Need some help? The 'D3 Social Audit' undertakes a full review of your social presence and delivers recommendations to set your business up with the clarity and confidence to successfully invest in social media in the future.
4. Insights over data:
"If you can't explain it simply, you don't understand it well enough." Albert Einstein
One of the most frustrating bi-products of increased investment in digital media channels has been the volume of performance data you can now access, coupled with multiple (often meaningless) KPI metrics. The plethora of data points regurgitated into campaign reports has left many businesses simply not being able to see the "wood from the trees". At D3, we've baked into our business a focus on data driven insights (hence D3!) through defining the key metrics that matter most to our client partners. Central to gaining insights that drive agility is the development of real time dashboards to provide simple visualisation of the metrics that matter. Use your time in lockdown to re-think your reporting; be clear on the metrics that matter for your business, reset your reporting, tagging & analytics to provide actionable insights in real time.
Need some help? Call us to discuss the development of your own 'D3 Lab'. The D3 Lab provides a bespoke insights repository for all your communications activity. This includes a performance visualisation dashboard, media investment analysis and process flow improvement amongst other great tools to make you more efficient.
5. Upskill for tomorrow:
"Leadership and learning are indispensable to each other." John F. Kennedy
So much has changed over the past month and most commentators are predicting this digital momentum will continue to grow. Over the past 2 years, we've worked with many of New Zealand's largest brands and the single biggest marketing issue they face is consistently the same; digital skills & leadership.
The digital skill shortage applies to every layer of the business, from digitally native graduates right through to senior management.
Need some help? To help New Zealand businesses upskill in digital, D3 have launched a new digital training program for marketers at all levels of seniority, so if of interest, give us a call to get yourself or your team booked in:
1. Understanding the basics and establishing your digital foundations 2. A deep dive into the key digital channels, their roles usage and measurement3. Digital transformation, data strategy & future thinking