What Makes a Successful Partnership?
The right sponsorship can skyrocket both brand impact and business results by nurturing the most crucial element of the relationship between business and consumer – trust. D3 has set out to determine the building blocks of the perfect partnership through an analysis of our NZMA and Mai FM 12-month agreement.
To begin, we needed to understand our audience. Who is the NZMA student? What do they care about? How do they interact with media day-to-day?
Our research determined that Mai FM was a major media channel for our NZMA student, with over 30% of students naming the station as the media they spent the most time listening to. The Mai Morning Crew with Nickson, Tegan, and Jordan is also the #1 music Breakfast station in Auckland with 153,200 listeners every week and a 75% market share of our core audience. Mai FM therefore proved a perfect station to reach our audience.
A successful partnership requires two entities to be both different and the same; to coexist in harmony without detracting from either's objective, like parallel lines or synchronised swimmers. We had built strong foundations by finding the right channel and brand, but now, we needed to develop a relationship rooted in authenticity and aligned values.
Great relationships are built through 'many small conversations over time' – and many small (and not so small) conversations we have had over the last six months. The hard work and frequent, clear communication between NZMA, Mai FM, Mediaworks, and our team at D3, has allowed ideas to flow smoothly into real-life outcomes. We have utilised many of the modern world's convenient communication tools - e-mail, phone calls, texts, Teams, or even, dare I say, face-to-face, to discuss both long-term objectives and answer questions at a moment's notice. A relationship built on clear, consistent communication with a consideration of time sensitivity is essential.
With our audience listening and all parties' needs communicated, we were well on our way, but to build a relationship between NZMA and their potential and current students; we needed to interact with them at multiple touch points. They knew the voices on the radio, but now, the voices needed to know them. After all, this sponsorship was made up of real people, with real lives and real stories who cared about the students. What better way to do this than for some good old-fashioned yarns over morning tea?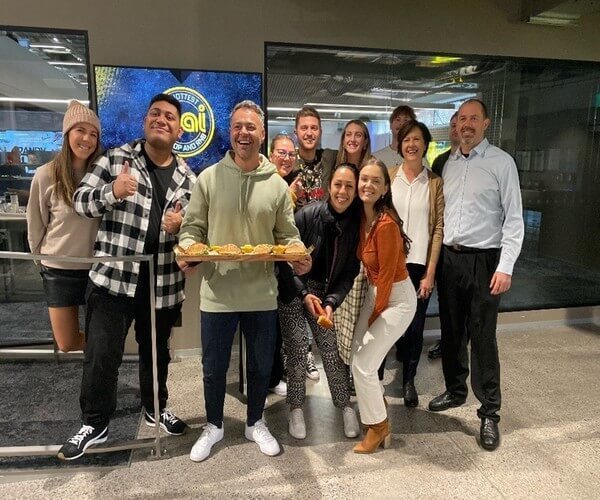 The Mai team and Mai Morning Crew visited the colleges and met NZMA's staff and students to fully understand who NZMA are and what they stand for. On one occasion, NZMA's catering students even surprised the Morning Crew with a freshly made breakfast. These activations have nurtured an authentic relationship between all of those involved in making this a reality. When the Mai Morning Crew talk about NZMA on air, they likely think of the people they have met and the experiences they have had. They know exactly who they are talking about and to.
On-air integration informed by these authentic experiences has been a key contributor to the success of this partnership. Mai have inspired their audience with the opportunities available at NZMA via a series of competitions, teasers, trailers, and adlibs with great success. The first integration Mai did for NZMA received over 119% more entries than the previous promotion Mai did, likely fuelled by relevance and authenticity.
Consistent radio advertising and aircover over time forms the structural support to our proverbial perfect partnership house by cementing the brand at the forefront of our audience's mind. We wanted to become a resident in the minds of Mai's listeners. These radio spots run at a heavy weight throughout the Mai schedule and have proven an excellent vehicle for frequent, tactical messaging and direct response activity.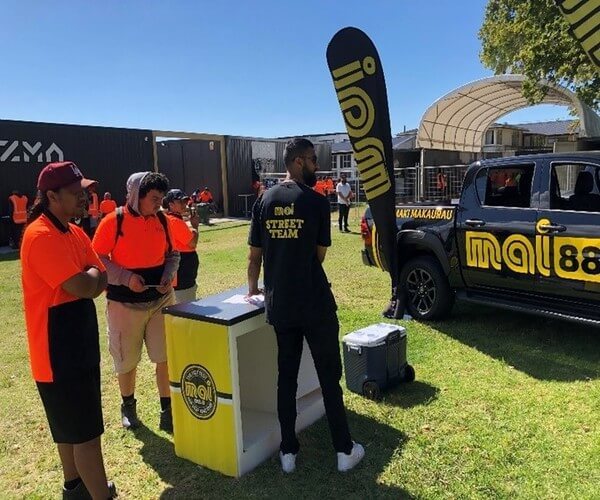 At this point in the student's journey, it is likely they have a firm understanding of NZMA, but how can we turn this into real-life outcomes? By working with the team at Mai to arrange on-site activations, we have created excitement around Student open days and improved overall attendance. From the first time they heard of NZMA, to a moment of genuine consideration, to attending the open day, we have been with them along the way, informing and supporting their journey.
Our data shows a direct correlation between the Mai FM sponsorship and an uplift in brand search volumes in Google, overall site visitation, and applications to join NZMA, firmly demonstrating the power of the right partnership. With six months left in the agreement, we are excited to see this partnership go from strength to strength.
When investigating sponsorships at D3, we apply a simple 6-step process to ensure we align with the right vehicles for our clients. These steps are applicable for all brands and are detailed below:
Clearly define your sponsorship objectives.
Identify your opportunities with the goal of finding a space that you can own and shine in through audience research.
Study your partner to make sure that your brand aligns with them, their values, and their properties.
Investigate what you can bring to the table to help achieve the win-win outcome.
Look for ways to activate sponsorship across different channels.
Identify how you will measure the results.
To build a perfect partnership, understand your objectives and your audience to find the right partner. From here, work to build an authentic relationship with all parties involved based on shared values. Implement this at multiple touch points to maximise reach and frequency, but also to maintain an authentic connection with your audience. You will be well on your way to success.