Why everyone is talking about First Party Data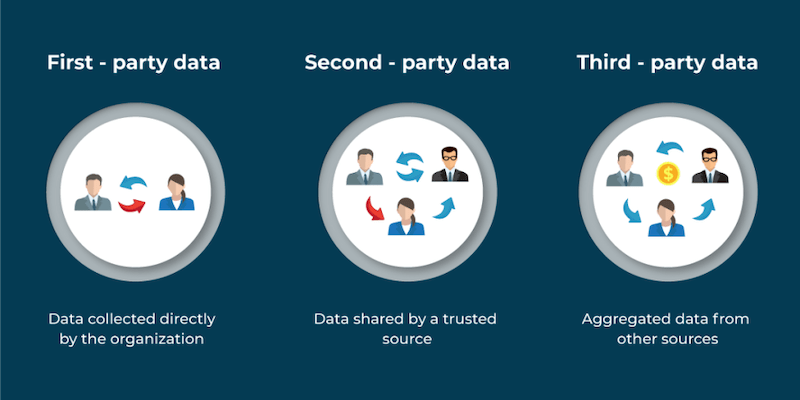 Digital marketing success hinges on the abundance of affordable data. Platforms like Google and Meta offer precise ad targeting, lookalike audience creation, personalized ads, and valuable email lists. Marketers must comprehend different data types and invest wisely to navigate privacy law changes and platform updates, ensuring they stay ahead and out of trouble. Adapting to the new reality is crucial for data to remain a vital part of your marketing toolkit.
First-party data: Information directly collected from your own customers or users, such as website visits, purchase history, email interactions, and customer-related data acquired through owned channels.
Second-party data: Data obtained from trusted partners or collaborating companies, granting insights into their customers or audience for improved targeting and personalization efforts.
Third-party data: Data collected by external entities separate from your company, which provide demographic info, interests, browsing behaviour, and other attributes for broader audience understanding beyond your own data.
Privacy laws and platform changes impact marketing data:
Stringent consent requirements from privacy laws like GDPR and CCPA, along with increasing caution about sharing user data, have resulted in reduced quality and quantity of second and third-party data. This trend is expected to continue, as privacy measures persistently challenge the use of such data.
Platform changes, like Apple's App Tracking Transparency (ATT) framework and Google's phasing out of third-party cookies, limit tracking and data sharing across platforms to enhance user privacy. This affects the availability and reliability of third-party data.
The growing power of first-party data:
First-party data has always been the most potent data for marketers. Although it's often costly to collect and maintain, many marketers have not effectively built and utilized this asset.
As the data landscape evolves, the importance of first-party data grows stronger. Ad targeting using third-party data won't return to past practices. Sending bulk emails to unfamiliar databases or relying on cross-device tracking will yield poor results. Marketers must shift focus towards delivering value and building genuine relationships with their audience.
At D3, we can help you creatively explore the information you have about your audience and how we can use it more powerfully.